Simmons Hanly Conroy, one of the nation's largest mass torts firms, is pleased to announce Melissa Crowe Schopfer, a Shareholder and asbestos trial team leader, has received a 2020 Women's Justice Award from Missouri Lawyers Weekly. Schopfer will be honored in the Litigation category at the awards ceremony on August 8 at the Four Seasons Hotel St. Louis.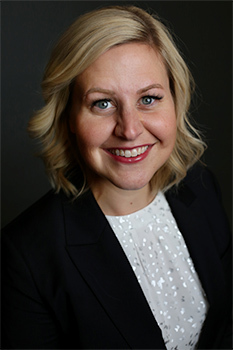 "Melissa is a well-respected, knowledgeable and admired colleague, and we are thrilled to see her selected for the Women's Justice Award," said Managing Shareholder Michael Angelides. "As a skilled trial attorney, she has proven to be a formidable opponent who secures justice for clients whose lives have been devastated by a mesothelioma diagnosis through no fault of their own."
One of 53 recipients, Schopfer's Litigation Practitioner Award recognizes attorneys who have made their careers in the courtroom. Schopfer joined Simmons Hanly Conroy's asbestos and mesothelioma team in 2005 and became an asbestos trial team leader in 2012. Promoted to Shareholder in 2013, she has mentored other young female attorneys and currently leads a team of nine attorneys, paralegals and investigators.
In the past 10 years, Schopfer has worked on more than 500 cases and regularly secures seven-figure results for clients. Her clients are her main priority, as they are diagnosed with mesothelioma, one of the deadliest forms of cancer. With an average life expectancy of six to 18 months, the clock is ticking to prepare for trial before a client passes away.
Schopfer personally manages more than 15 asbestos cases at a time, serving as the central point of contact for families, often becoming an honorary family member as she builds the case, taking on every task from interviews to digging through old boxes of documents that have been buried for decades. She has been especially successful litigating cases of secondary, or "take home" asbestos exposure, meticulously investigating and gaining justice for the families of those who have already died from this devastating disease.
Outside of the courtroom, Schopfer serves on the board of the Foster & Adoptive Care Coalition, and for the past five years, she has helped organize Friends of Wings' primary fundraiser. She's also involved in Queen of Peace, which takes in women and children from homes involving substance abuse and domestic violence. Within the firm, she serves on the Business Development Board, Diversity & Inclusion Board, and has previously served on the employee's charitable committee. Last year, she founded Seneca Group with four other female attorneys in order to share information about women-specific legal issues and empower women within the profession.
Schopfer received her J.D. from St. Louis University School of Law and her Bachelor of Science from Western Illinois University.
Since 1999, the Women's Justice Awards have honored women who demonstrate leadership, integrity, service, sacrifice and accomplishment while improving the quality of justice and exemplifying the highest ideals of the legal profession. This year's 53 recipients include judges, in-house counsel, legal scholars, private practitioners and Missouri law school students. In addition to the awards reception, honorees will be profiled in a special edition of Missouri Lawyers Weekly.